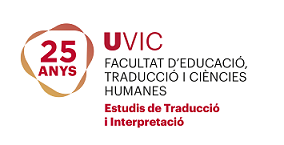 Aquest curs acadèmic es commemoren els 25 anys dels estudis de Traducció i Interpretació a Vic. S'està preparant una celebració per al divendres 17 de maig a partir de les 17:00 h.
L'acte tindrà un triple enfocament: acadèmic, professional i de record.
Obrim les activitats amb la conferència de la professora emèrita Lluïsa Cotoner i una primera taula rodona dedicada al món laboral, on hi participaran tres professionals en actiu que s'han format a la UVic i una representant del món empresarial que acull estudiants en pràctiques.
A continuació, es projectarà un breu vídeo sobre els 25 anys, seguit d'una segona taula on es parlarà de l'evolució de la docència durant aquest període.
Es clourà l'acte amb un refrigeri.
Trobaràs els detalls al nostre calendari. Considera aquest article una invitació a l'acte. Hi seràs molt benvingut/da. Si penses venir, es prega la confirmació abans del 3 de maig.

I'm a teacher living in Osona, Spain. I'm into tennis, dogs, and chickens. I'm also interested in translation and Moodle (well, digital tools for teaching, in general).

Latest posts by Richard Samson (see all)